On CodePen, you can send a text message (officially known as "SMS") with the URL to any Pen directly to any device that can receive an SMS.
When anyone creates a Pen on CodePen, it gets a unique "slug". Those funny five letters like "yjHrp". They keep URL's short, but they aren't that fun to type. Of course you rarely need to do that, except when you just simply want to open that exact Pen on another computer or device. For instance, to use Live View to see your changes update immediately. Fortunately, you don't have to type out anything to send a URL to any device that can receive a text message (SMS).
While logged in to the desktop editor, open the Share menu from the button at the bottom right. You'll see the SMS area: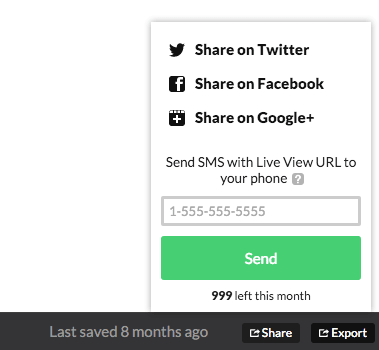 Enter in a phone number and click send. You should receive the text message within a few seconds.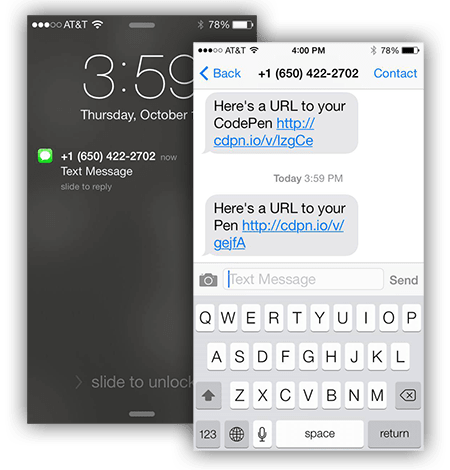 How many text messages do I get?
We have to pay by the message, so we limit how many we allow. PRO users get more.
Free = 10/month (starting when you first send one)
PRO = 100/month (renews monthly from the day you went PRO)
Super PRO = 1,000/month
How does it work?
We used to use Nexmo, but after some troubles, have happily moved onto Twilio, which offers APIs for doing this exact type of thing. We simply (securely) pass along the number and the message and Twilio does the sending. We don't store your number, but we do put it in a cookie so if you go to another Pen and use the feature, the last number you sent to will be pre-filled, to save you time.
Standard messaging rates apply
These are normal incoming text messages like any other you get. If your cell plan charges for that, you'll be charged regularly. If you get a certain number of incoming texts per month, this will count against that.
What URL Does It Send Me?
If you're a free user, it will send you a link to the Full Page view. If you're a PRO user, it will send you a link to the Live View, which is more useful on a mobile device as you can watch the changes live as you edit the Pen from your desktop.
What format do the numbers need to be in?
The format is fairly forgiving, but if you have trouble just try a few different things, it should go through. 10-digit U.S. numbers work as-is, but it will accept and send internationally if you use the country code and international format.
Since we're using Twilio, you might want to consult their documentation directly. Here's an important bit:
We strongly encourage E.164 number formatting for all phone numbers both in the 'to' and 'from' fields. This format is the internationally-standardized format for all phone numbers, and it includes all the relevant information to route calls and SMS messages globally. E.164 numbers can have a maximum of fifteen digits and are usually written as follows: [+][country code][subscriber number including area code]. Phone numbers that are not formatted in E.164 may work, but it depends on the phone or handset that is being used as well as the carrier from which the call or SMS is being originated.

For example, to convert a US phone number (415 599 2671) to E.164 format, one would need to add the '+' prefix and the country code (which is 1) in front of the number (+1 415 599 2671). In the UK and many other countries internationally, local dialing requires the addition of a 0 in front of the subscriber number. However, to use E.164 formatting, this 0 must be removed. A number such as 020 7183 8750 in the UK would be formatted as +44 20 7183 8750.
What countries do you support?
A bunch! Here's the full list:
Afghanistan
Albania
Algeria
American Samoa
Andorra
Angola
Anguilla
Antartica
Antigua and Barbuda
Argentina
Armenia
Aruba
Ascension Island
Australia
Austria
Azerbaijan
Bahamas
Bahrain
Bangladesh
Barbados
Belarus
Belgium
Belize
Benin
Bermuda
Bhutan
Bolivia
Bosnia and Herzegovina
Botswana
Bouvet Island
British Indian Ocean Territory
Brunei
Bulgaria
Burkina Faso
Burundi
Cambodia
Cameroon
Cape Verde
Cayman Islands
Central African Republic
Chad
Chile
China
Christmas Island
Cocos (Keeling) Islands
Colombia
Comoros
Cook Islands
Costa Rica
Croatia
Cuba
Curacao
Cyprus
Czech Republic
Democratic Republic of the Congo
Denmark
Diego Garcia
Djibouti
Dominica
Dominican Republic
East Timor
Ecuador
El Salvador
Equatorial Guinea
Eritrea
Estonia
Ethiopia
Falkland Islands
Faroe Islands
Fiji
Finland
France
French Guiana
French Polynesia
Gabon
Gambia
Georgia
Germany
Ghana
Gibraltar
Greece
Greenland
Grenada
Guadeloupe
Guam
Guatemala
Guernsey
Guinea
Guinea-Bissau
Guyana
Haiti
Heard Island and McDonald Islands
Honduras
Hong Kong
Hungary
Iceland
India
Indonesia
Iran
Iraq
Ireland
Isle of Man
Israel
Italy
Ivory Coast
Jamaica
Japan
Jersey
Jordan
Kazakhstan
Kenya
Kiribati
Kuwait
Kyrgyzstan
Laos
Latvia
Lebanon
Lesotho
Liberia
Libya
Liechtenstein
Lithuania
Luxembourg
Macau
Macedonia
Madagascar
Malawi
Malaysia
Maldives
Mali
Malta
Marshall Islands
Martinique
Mauritania
Mauritius
Mayotte
Mexico
Micronesia
Moldova
Monaco
Mongolia
Montenegro
Montserrat
Morocco
Mozambique
Myanmar
Namibia
Nauru
Nepal
Netherlands
Netherlands Antilles
New Caledonia
New Zealand
Nicaragua
Niger
Nigeria
Niue
Norfolk Island
North Korea
Northern Mariana Islands
Norway
Oman
Pakistan
Palau
Palestinian Territory
Panama
Papua New Guinea
Paraguay
Peru
Philippines
Pitcairn Islands
Poland
Portugal
Puerto Rico
Qatar
Republic Of The Congo
Romania
Russia
Rwanda
Réunion Island
Saint Helena
Saint Kitts and Nevis
Saint Lucia
Saint Pierre and Miquelon
Saint Vincent and The Grenadines
Samoa
San Marino
Sao Tome and Principe
Saudi Arabia
Senegal
Serbia
Seychelles
Sierra Leone
Singapore
Slovakia
Slovenia
Solomon Islands
Somalia
South Africa
South Georgia and the South Sandwich Islands
South Korea
South Sudan
Spain
Sri Lanka
Sudan
Suriname
Svalbard and Jan Mayen
Swaziland
Sweden
Switzerland
Syria
Taiwan
Tajikistan
Tanzania
Thailand
Togo
Tokelau
Tonga
Trinidad and Tobago
Tunisia
Turkey
Turkmenistan
Turks and Caicos Islands
Tuvalu
Uganda
Ukraine
United Arab Emirates
United Kingdom
United States
Minor Outlying Islands
Uruguay
Uzbekistan
Vanuatu
Vatican City
Venezuela
Vietnam
US Virgin Islands
British Virgin Islands
Wallis and Futuna
Western Sahara
Yemen
Zambia
Zimbabwe
Was this article helpful?