Heads up! This blog post hasn't been updated in over 2 years. CodePen is an ever changing place, so if this post references features, you're probably better off checking the docs. Get in touch with support if you have further questions.
We're stoked to say that CodePen is now part of The Deck ad network. Ads on The Deck are always highly relevant to the web crowd. We all agreed we actually like seeing Deck ads because they are often highly relevant to what we do and introduce us to things we likely actually want to know about.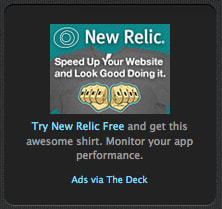 That is a New Relic ad, which we started using on CodePen because it gives us great information about how the app is performing and insight into how to make it faster.
Also this month: Wufoo (which we use for the support forms and The Store), MailChimp (which we use to send our newsletter), Media Temple (which hosts this very blog), and a bunch of others. So yeah, pretty relevant!
Ads are still removed for PRO users (fair is fair) and we use the additional room now to show you a bit more Recent Activity (new!).