Heads up! This blog post hasn't been updated in over 2 years. CodePen is an ever changing place, so if this post references features, you're probably better off checking the docs. Get in touch with support if you have further questions.
We've made the "Hire Me" feature a free feature for all users. If you have a CodePen account, you can mark yourself as hireable. Go under Your Settings, the Profile tab, and change the "Are you for hire?" toggle to "Yes".
Here's an example of a profile with a Hire Me button:
And when a user presses that Hire Me button, they get a form they can use to contact you (without exposing your actual email address):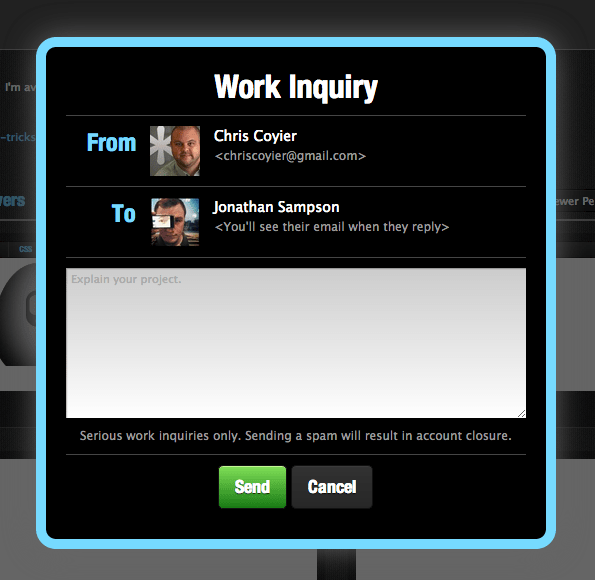 This turns your profile on CodePen into a resume and portfolio – capable of potentially getting you work.
Why the change?
Hire Me used to be a PRO only feature. In a recent survey of our PRO users, very few of them valued it highly as PRO feature and nobody said it was their favorite PRO feature. In part, because less people know about it because only a subset of users can use it.
Making this a free feature makes it more valuable for everyone because of the raised awareness. PRO users need not worry, we've been adding new features for you lately and there is loads more to come.
Who is able to contact me?
Only logged in users of CodePen are able to contact you. This is largely to prevent spam and to prevent non-serious work inquiries. The way we see it is if someone wants to hire you for work, they can be troubled to sign up for a free account on CodePen. This also gives you an opportunity to see a bit about them through their CodePen profile – which may give you insight into who they are or what kind of company they are.
Will I get spam if I turn it on?
We do our best to ensure that any email you receive through our Hire Me feature is a legit work inquiry. As mentioned above, only logged in users can send you emails in this way, which prevents the vast majority of abuse. Any account caught abusing this feature will be disabled. The form is also only able to be opened through clicking on the Hire Me button, which is another layer of protection against bots (who are unable to "click" traditionally).
We also check messages for spammy keywords as well as use the Akismet spam checking service.
What are my responsibilities?
None, really. Don't feel obliged to respond to every single work inquiry you get. This is your inbox (literally) and you can manage it however you like.
Enjoy!
We'd love to hear any stories of how this works out for you.