Heads up! This blog post hasn't been updated in over 2 years. CodePen is an ever changing place, so if this post references features, you're probably better off checking the docs. Get in touch with support if you have further questions.
Brand new thing! We've been planning and building the CodePen Job Board for months and we're elated to release it.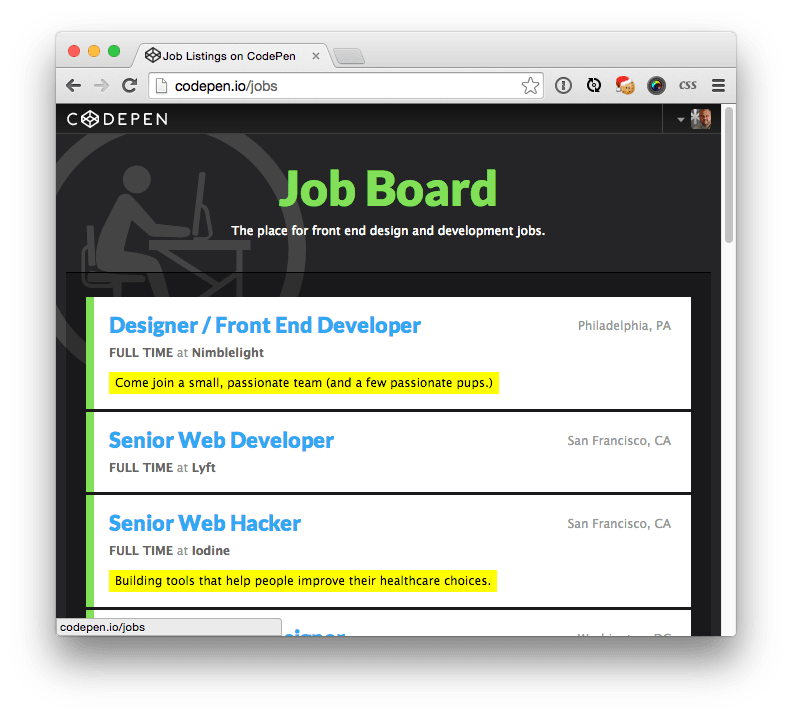 A job board for front end developers
That's the big idea here. CodePen is this big community of front end developers and so we're hoping this can be a niche job board targeted at those sorts of positions. A relatively difficult niche to hire for, as we understand it. And aside from CodePen being a place for front-enders, so to are CSS-Tricks and ShopTalk Show, and this will be the official job board for all three sites.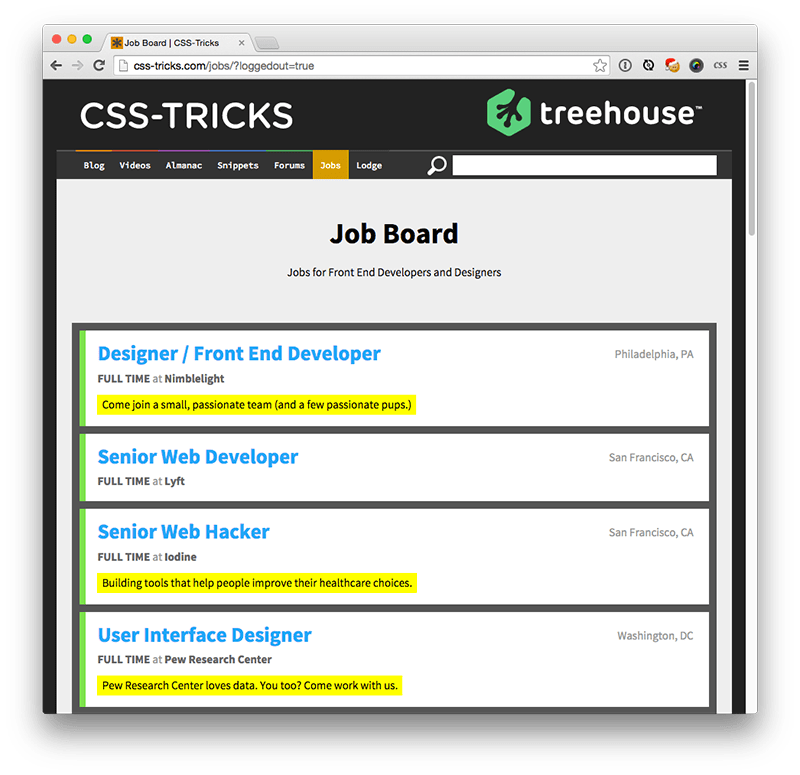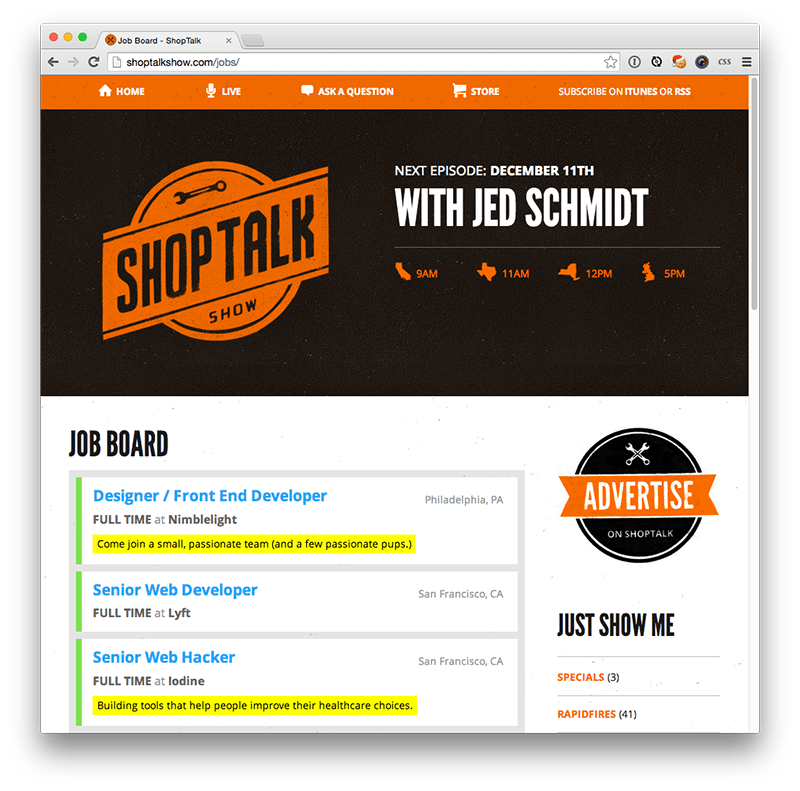 Posting on the CodePen job board gets your job posting on all three. There is even an add-on to get your job mentioned on ShopTalk. Dave and I are doing two slots per show where we'll do a spot talking about your job.
Why post your job on the CodePen Job Board?
This is a question we had to answer to ourselves as a team before we even started, but I think the answers are pretty compelling.
This is a niche job board, it's for front end designers and developers. We think both the people looking for jobs like that and companies looking to hire people like that prefer the leads from casting a smaller, more focused net. Perhaps I'm biased but I think an applicant that found you via CodePen at least gets a +1 for being at least a little up on the industry.
While it's niche, between all three of the sites your job gets posted on, they serve 25 million pageviews a month. They aren't too tiny to be effective.
We offer opportunities to get your job featured more prominently, like the classic upgrade to a visually featured job (extra design flair, adding a callout sentence to attract folks). And we also offer another upgrade to get your job mentioned on ShopTalk Show.
We offer automatically renewing jobs. During our research for this, we found that many companies have opening for long periods of time, and can benefit from having a job posting that doesn't expire until they tell it to.
You can use CodePen to interview candidates. As soon as you post a job, the account that did that is automatically PRO. That means that account has access to Collab Mode, which is a feature of CodePen PRO in which multiple people can be working on a Pen in real time. We've heard from lots of companies that they use this in the interviewing process to vet people's front end skills.
Subscribing
If you're into the RSS things, there is a feed of jobs. There is even a JSON file, if you're into doing something neato mosquito with that.
Moving Forward
If you're already happily employed, you're likely not foaming-at-the-mouth excited over this. But we're hoping that for those of you looking, there will be some good opportunities here.
And there is one big reason that I hope anyone can appreciate: this is yet another step toward CodePen: The Healthy Business Model. A step that, all goes well, will fuel getting more awesome more quickly.